Tune-ups

Yes, it's something that all shops do but ours is special, not only do we perfect your gear shift, true your wheels, clean & adjust your brakes, check over and adjust everything that is needed, we Ultrasonically clean your drive-train removing every bit of dirt & grime and leaving you with a drive-train that is a thing of beauty, and shinning bright once again which isn't possible by hand, we are the only shop in Whistler to have an ultrasonic cleaner and we don't charge you any extra for this service.

---

---

Wheel Building

A strong set of wheels is one of the most important parts of any bike, its the only thing in contact with the ground, they take a lot of punishment and ultimately keep you moving. Professional high quality hand build wheels is becoming a dyeing art that many modern mechanics simply don't know how to do properly or shy away from, not at The Fix, James has been building wheels since the tender age of 15 and has somewhat of a gift for it.

Road Bike Repairs

Whistler may be well known for its incredible mountain biking but the Sea to Sky highway is also a well trodden path for road cyclists. Here at The Fix we know our road bikes and know even better how precise a machine they are. You'll be happy to know your road bike is in the best of hands here (James was a professional road bike racer for many years) , year after year many of Whistler's road biking community come to us for their road bike repairs, service & builds.

---

The Weird, Wonderful and Totally Bizarre

We get it and see it all here at The Fix, from hunts for obscure bolts to bizarre broken parts with even odder stories to boot, we cant always guarantee we have the solution but we will try our hardest to help, we like a challenge, that's what makes us #1, we have the knowledge & the tools to try solve the things that other shops can't.

---

Special Tools

The Fix is equipped with an extensive range of tools, including frame finishing tools such as: bottom bracket threading and facing tools, headset reaming/facing tools and frame gauges. The shop boasts brand specific special tools for servicing parts from Chris King, Hadley, Shimano & Campagnolo... In short we have a lot of tools and we know how to use them.

---
Year round service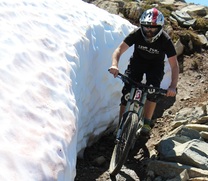 The Fix is a dedicated year round bicycle repair shop, we don't fit your ski boots or wax your ski's in winter, we do one thing and do it well. We also understand that even when it's winter and the trails closer to home are covered in snow many of us head south in search of snow free dirt & tarmac and ride all year round. Alternatively what better time to get your bike in good shape then when your not using it, when the snow melts you're ready to ride.
---